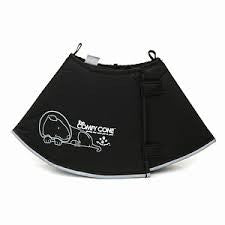 The Comfy Cone® Small
$39.99
Finally - a solution for bridging the gap between soft and hard E-collars! The Comfy Cone® with it's removable stays now gives you 2 cones in 1!
The Comfy Cone® E-Collar, is an alternative to the plastic E-Collar, and is the only patented soft cone-shaped E-Collar with removable stays for dogs and cats.
It has many ways to help your pet heal more comfortably! Our unique E-Collar design confirms to doorways, pet doors and any other openings your pet passes through. Water resistant and repellent, easy to wipe clean and removable stays for more structure or less when needed.
Thread your pet's personal collar through elastic loops to keep secure. Reflective binding for safety when out of doors. Collar direction can be reversed for shoulder or upper back injuries, as well as IV lines.
Related Products