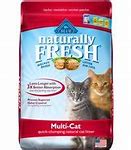 Naturally Fresh Multi-Cat Quick Clumping Walnut Litter
$22.99
2x-6x the odor control of leading multi-cat litters
A proprietary blend of the fibrous materials found only in walnut shells that have been proven in laboratory tests to neutralize odor better than other brand multi-cat litters.
Faster, harder clumping for easier scooping
Naturally Fresh super-absorbent formula produces hard clumps within 15 minutes-faster than clay, corn or wheat according to laboratory tests-which makes clean-up simple and mess-free.
Virtually NO dust
Unlike clay litter, which often throws off silica dust, Naturally Fresh is virtually dust-free so you and your cat can breathe easier!
Low tracking
Naturally Fresh doesn't stick to your cat's paws so it's less likely to be tracked throughout the house.

Naturally Fresh Multi-Cat Litter has been tested side-by-side with other leading multi-cat litters and has proven to have at least twice the odor-eliminating power.
100% Eco-Friendly Formula
All-natural and annually renewable
100% natural and biodegradable*, Naturally Fresh is made from walnut shells, an annually renewable non-food agricultural product.
NO chemicals, NO toxins, NO worries
Made without any harmful ingredients, Naturally Fresh is safe for you and your cat or kitten.
USA-made.
All of the walnuts used to make Naturally Fresh are homegrown in the USA!
Related Products